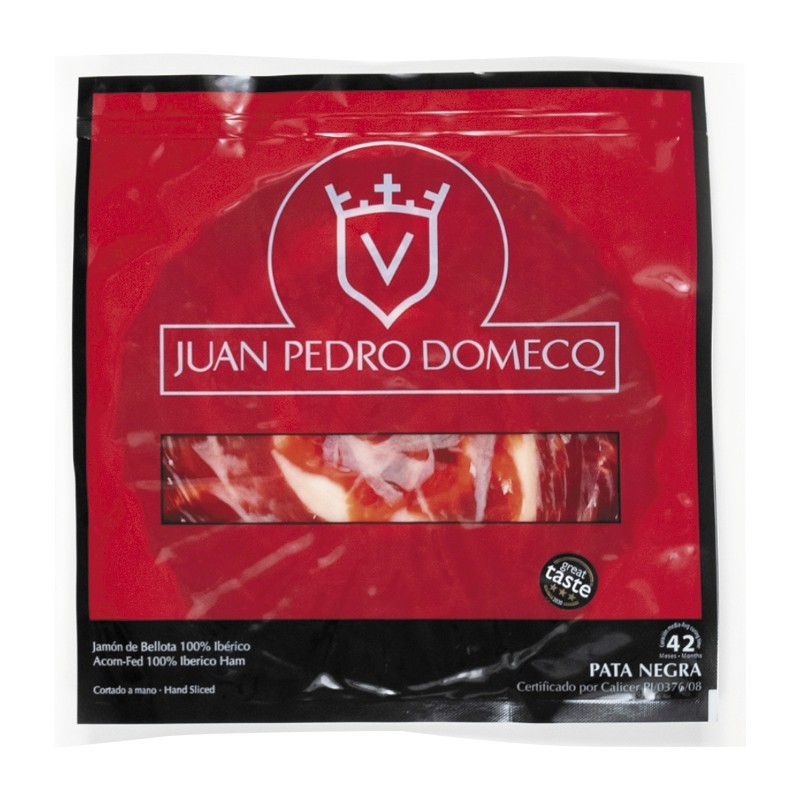  
Pure Iberico Ham Hand Sliced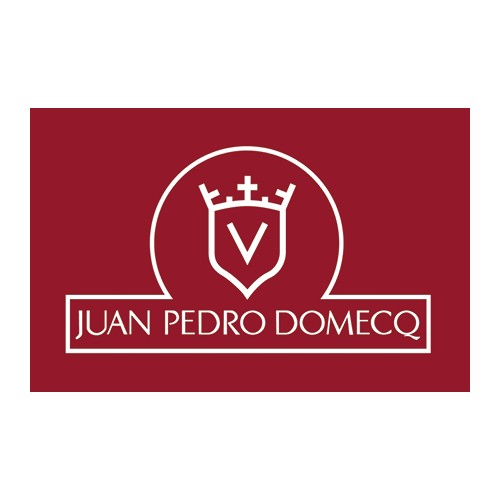 Packaging: 80G PACKET
For accurate price please contact Classic Fine Foods Customer Service or your Account Manager
Hand Sliced Acorn Fed 100% Iberico Ham Meat is very juicy, tender, and has an inimitable taste. Sliced by the Master carver to a perfect thickness so it melts in the mouth. (Stock Item)
100% Iberico Bellota pork has a Black Label. Pure Iberico ham is a hand-sliced by a master carver who is working for Juan Pedro Domecq for over decade. Melting soft, Sliced Ham de Bellota Pure Iberico is cured by hand for 42 months. Comes in a nice pack, easy and ready to serve.
Juan Pedro Domecq raise their small herd of 100% Iberian pork in their family Odessa near Seville, Spain. They control each stage of the processes, from rearing to curing, to ensure the best quality meat. The natural acorn-based diet gives Iberico pork a delicious, nutty, buttery fat which melts in the mouth.
Prior to slaughter, the pigs spend at least 21 months roaming the Dehesa. The Acorn woods, which make up the majority of their diet, boosting fat production and flavour.
The company's reputation for producing a very unique Iberico pig has been built over generations. Based on genetic studies that have been conducted in order to find the ideal breed for producing the best Iberico meat. Meat from these animals is very juicy, tender, and has an inimitable taste.
Under the constant care of their Master Ham-maker, their hams are naturally cured in the company's own cellars in the Jabugo area for 42 months. The Pure Iberco Bellota has has a stunning flavour, lovely and sweet, a beautiful aroma and a tender, not too fatty texture. Their hams in pre-sliced packs have been hand-carved to ensure the perfect thickness so it melts in the mouth.
Beyond the highest quality Juan Pedro Domecq only has a limited production each year to assure only the finest products, resulting in achieving 3 stars at the great taste awards 4 years in a row.
Pure Iberico Ham has multiple awards such as:
Winner of Indy Best 2021 Best jamón Ibérico
Winner of 3 Gold Stars at Great Taste Awards
Discover more products from Juan Pedro Domecq here. 
This Pure Ibercio Ham is perfect for the charcuterie board. Simply remove from the refrigerator and packaging around 20 minutes before serving so the meat can come up to room temperature. That will help to release the full flavour of the Ibercio Ham.
Dairy Free