In honour of International Food Loss and Waste Day on the 29th September, Classic Fine Foods proudly showcases our Food Waste Initiative to demonstrate our commitment to sustainability, well-being, and culinary excellence. To deliver this initiative, Classic Fine Foods has been working in partnership with City Harvest. Under the guidance of our Food Waste Committee, we have crafted a comprehensive process with a mission of combatting food waste and forging a path toward a more sustainable future.
Join us as we explore how this initiative works and discover practical ways chefs can reduce food waste.
The Three Pillars of Classic Fine Foods' Food Waste Initiative
Supporting CFF UK Employees:
Our initiative aims to support both our internal and external communities. As a first step to prevent items from going to waste, we offer products close to their sell-by dates to our dedicated employees. These items are provided at a highly subsidized price and the proceeds contribute to our staff welfare fund. This fund is designed to support our employees' well-being and further foster a sense of community within the company.
Partnering with City Harvest:
Classic Fine Foods UK has partnered with City Harvest, a respected organization committed to rescuing and redistributing surplus food to local communities in need. By working together, we can ensure that surplus food from our inventory finds its way to those who can benefit from it most. 
The Food Waste Committee:
Behind every successful initiative, there is a dedicated team driving its progress. At Classic Fine Foods UK, our Food Waste Committee is the driving force behind this project. These passionate individuals from within our organization are instrumental in ensuring that our mission to make a tangible difference, both within CFF and in the wider community, is achieved.
How Can You Reduce Food Waste
Chefs also have a pivotal role in the fight against food waste. Here are some practical steps:
Menu Planning:
Create a well-thought-out menu using seasonal ingredients efficiently. You can use our

Seasonal Calendar

created with Classic Harvest Team. 
Design dishes that utilize various parts of ingredients, minimizing waste.
Inventory Management:
Regularly assess inventory to identify items nearing expiration and prioritize their use.
Implement a "first in, first out" approach to ensure older ingredients are used first.
Portion Control:
Train kitchen staff to prepare and serve appropriate portion sizes to reduce plate waste.
Offer flexible portion options to accommodate different appetites.
Creative Repurposing:
Transform surplus ingredients into soups, sauces, or specials.
Use vegetable scraps for broths and stocks to maximize flavour.
Donation Programs:
Collaborate with local food banks or organizations to donate surplus food.
Ensure proper packaging and handling for food safety.
Education and Awareness:
Educate kitchen and serving staff about the importance of food waste reduction.
Foster a culture of mindfulness and responsibility in the kitchen.
Just in one week you can see below how much impact you can make by working with a local food bank: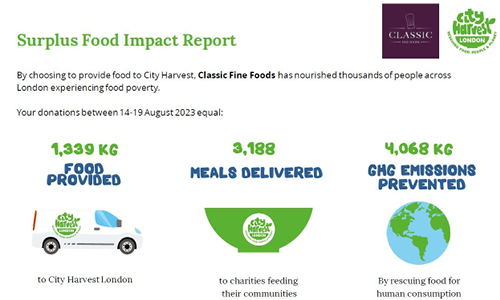 As chefs, you have the power to make a significant impact in the fight against food waste. By implementing these practical strategies, you can not only reduce waste but also inspire others in the culinary world to join this vital cause. Let's work together to create a brighter, more sustainable culinary future for all.