On Monday 6th November, some of London's finest award-winning chefs cooked up a gastronomical feast for an exceptional fundraising dinner by Hospitality Action.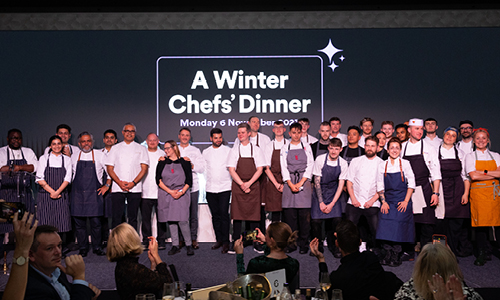 We were proud to support Hospitality Action's annual Winter Chefs' Dinner in London for 400 guests. This year it was held at luxury 5* hotel, Nobu Hotel London Portman Square, in the stylish grand ballroom. 
This annual dinner is an exclusive, money-can't-buy dining experience showcasing and celebrating the work of Hospitality Action in the presence of culinary greatness. 
We sponsored the chefs' from Nobu with our ingredients to create a variety of delicious canapés. Four delectable canapé dishes were served for the guests to enjoy during the drinks reception.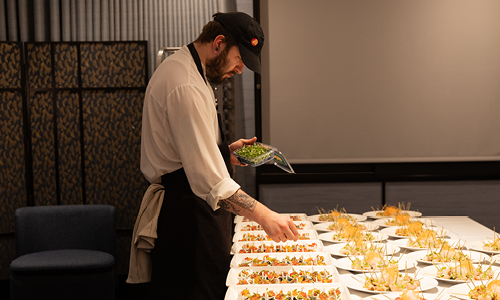 Later in the night, guests were given the choice of two four-course menus put together by the eight talented guest chefs. 
The stellar line up of award-winning chefs included: 
Jason Atherton, Chef Patron & CEO, The Social Company
Tom Booton, Executive Chef, The Grill by Tom Booton at The Dorchester
Claire Clark MBE, Chef Patron and Co-Owner, Pretty Sweet
Adam Handling, Chef / Owner, Adam Handling Restaurant Group
Anna Haugh, Executive Head Chef and Owner, Myrtle Restaurant 
Atul Kochhar, Chef Patron, Kanishka by Atul Kochhar
Ben Murphy, Chef Patron, Launceston Place
Vivek Singh, Executive Chef & CEO, The Cinnamon Collection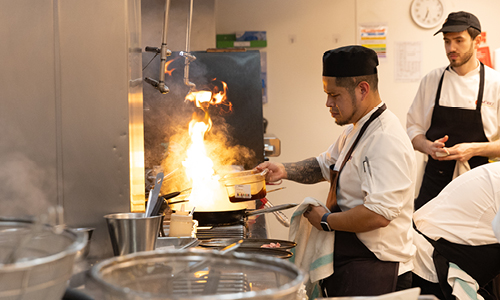 Atul Kochhar, Tom Booton, Adam Handling and Claire Clark MBE put together the courses for menu one. Including a wild mushroom salad to start, a delicious Cod scotch egg for the fish course, British wagyu for the main and an outstanding dessert of Amedei No. 9, Sherry apricots and pistachios.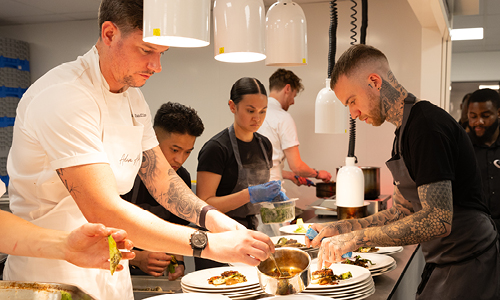 Jason Atherton, Vivek Singh, Anna Haugh and Ben Murphy put together the courses for menu two. Including a mouth-watering scallop starter, a red spiced roast pollock for the fish course, an Irish classic of beef and boxty for the main and an incredible dessert of chocolate, burnt clementine, miso and caramel. 
An incredible £85,000 was raised during this gastronomical feast! The money raised will be spent helping to transform thousands of hospitality households facing extreme food and fuel poverty and poor mental health, associated with the cost-of-living crisis. It's great to be part of the support and dedication given to Hospitality Action and the industry.